Our Story
ABOUT ACTUATE IMPROVEMENT
Our Company
OUR PROCESS, VISION AND EXECUTION
Like all of our services, we perform interior remodeling in Design + Build fashion. We take the time to understand your goals for this interior space, how you'll use it, and your personal style. From there, we'll create an interior design illustration to show the vision for the project. After your approval, a project team is assigned, and our friendly and expert craftsman build the vision as planned.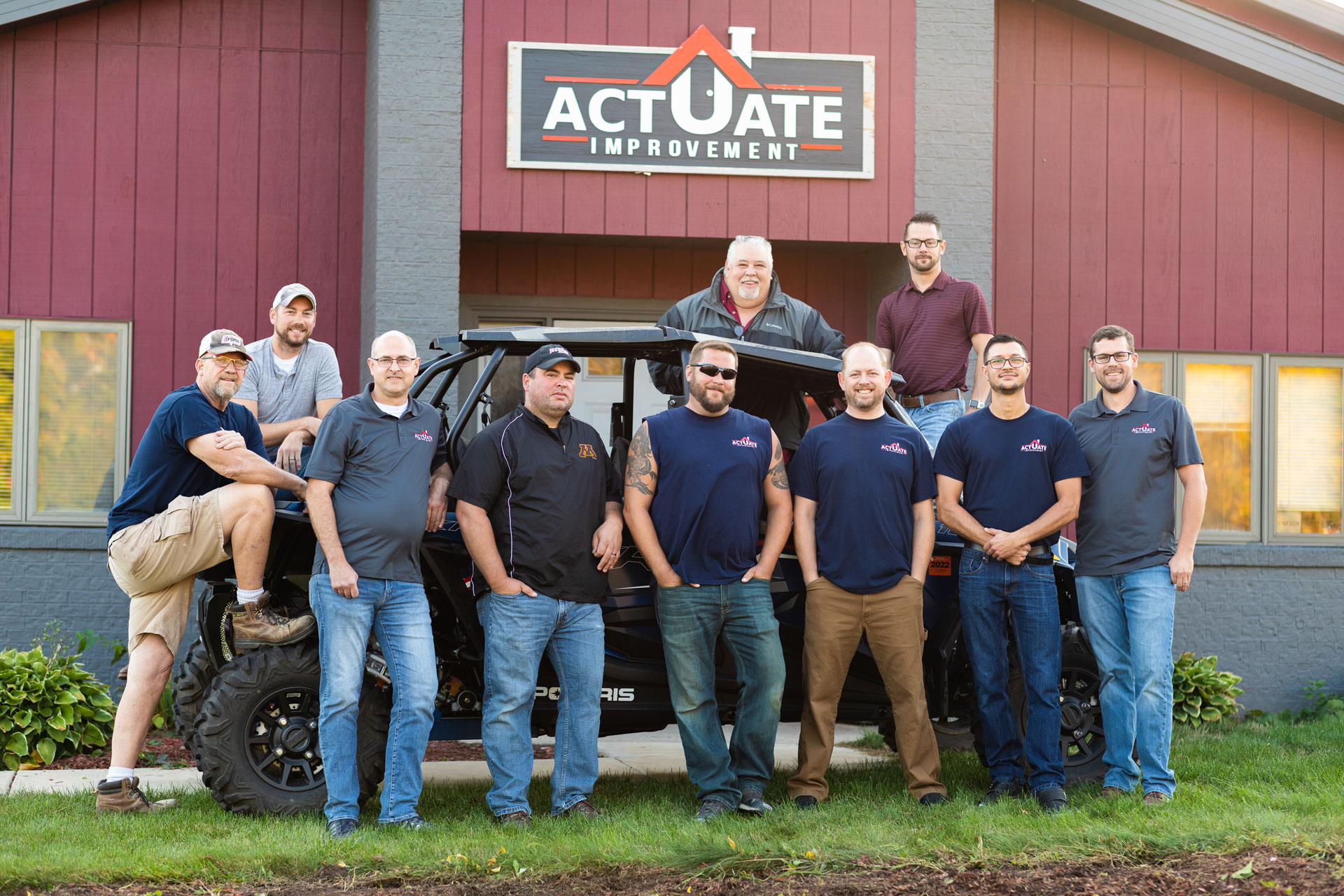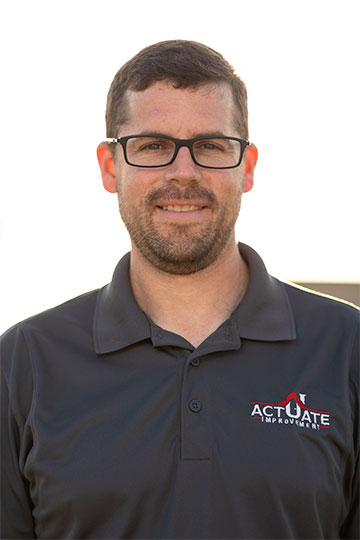 Mark Alexander
OWNER
My name is Mark Alexander.  I am the owner of Actuate Improvement. I was born and raised in Stoughton, WI. I have always had a passion for design and construction.
My career in the construction industry started in 1999, building decks, sheds, and other small projects in our small community. Once I graduated high school, I joined a very good company as a framing carpenter, building residential homes and small commercial buildings. That company started to grow, and in 2002, I started running crews on houses and commercial projects as a foreman. I loved the challenge of learning the industry and helping our company grow. I worked with that company until 2006. My desire to learn different aspects of the building industry took me to work with design and consulting for a remodeling company from 2007 – 2013.
Actuate Improvement was a dream in the waiting. Although I have learned from and worked with many very well-known and reputable leaders in the industry, I have always wanted to create my own contracting business to help others with designs and home changes/modifications.
Our goal and mission with Actuate Improvement is to provide a great service and quality finishes.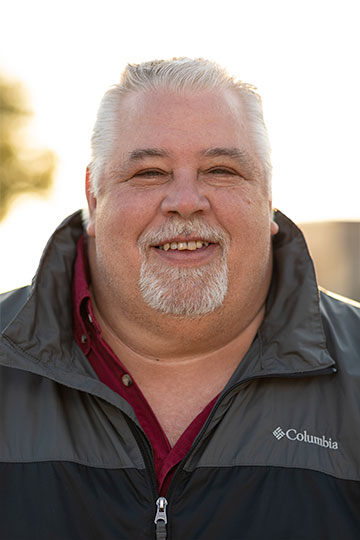 Dan Osborn
STAFF
Dan has over 35 years of Sales and Sales Management Experience. He has also spent over 30 years in and around the electrical trades. This has made for a well-rounded career in dealing with a variety of interesting situations.
Dan is a firm believer in building sales via making a personal relationship with every client he works with in the business world. Dan has had a very successful career. His personal hobbies include hunting and fishing, and the smoking of fine meats. He has fed as many as 400 people at one time via his smokers.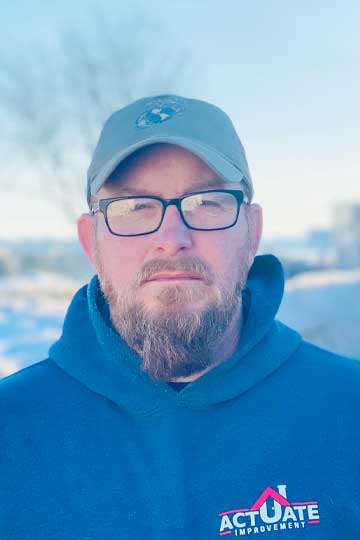 Reed French
STAFF
I grew up in a small farming town called Lamont Iowa, and discovered my love for building at a very young age. Around 12 years old, I would work weekends and summers with my dad learning concrete and carpentry.
Upon graduating high school in 1997, I joined the United States Marine Corps as an Artillery Cannon Crewman. I held many bullets. Most of which was leading anywhere from 3 to 650 Marines. The Marines was my home for just over 17 years. I medically retired in July 2014. While in the Marines I was always doing some type of carpentry project and eventually got into finer wood working.
Once I moved back to the Midwest, I decided to pursue my second career as a carpenter. I've worked for many different companies as a carpenter in the Madison area.
My hobbies include fishing, hunting, marksmanship, wood working and turning.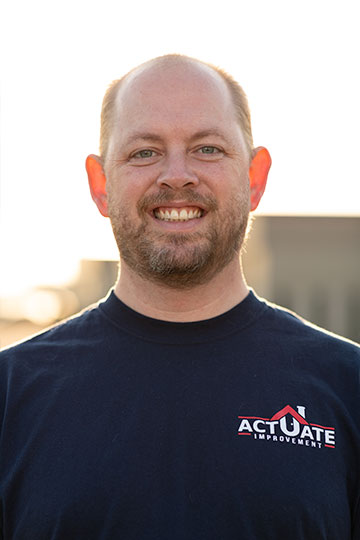 Brett Klitzke 
STAFF
Brett started working for Actuate Improvement in September of 2020 as a carpenter. It was quickly apparent that he had no carpentry skills to keep him as a carpenter full-time. He previously worked for both the State of Wisconsin and UW-Madison in Human Resources, so Mark decided that he would be better suited, in the office, as his Human Resources professional. Brett also wears many other hats in the office such as Customer Service Representative, Marketing Director, the maker of Coffee in the morning, Mark Alexander's Life Coach, Fill-in Carpenter as needed and other duties as assigned.
Brett continues to instill the goal and mission of Actuate Improvement by providing great customer service and quality finishes.
Design, Create, Actuate.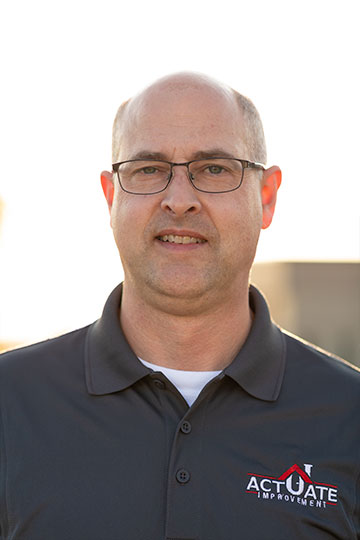 Patrick Preston
STAFF
Patrick has spent almost his entire professional career in the construction/remodeling fields including electrical/communications field work, kitchen & bath, and building material sales.. His joining the Actuate team in 2020 had an immediate impact on the company resulting in him being awarded the coveted "Outstanding Achievement in the Field of Excellence" award. When Patick is not working to provide great service to Actuate clients or completing his T.P.S. reports on time he enjoys gourmet cooking, spending time with his family, and being in the great outdoors observing nature's wonders.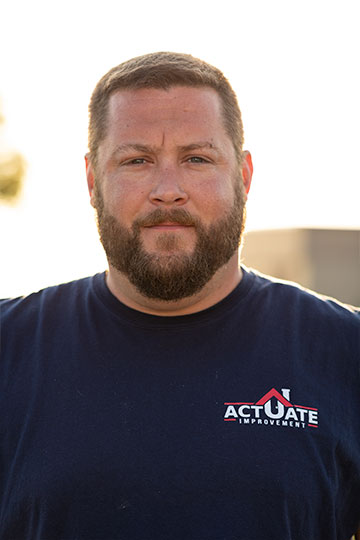 Brian Doughtie
STAFF
Brian has been with Actuate since September 2019, and has worked in the carpentry field for many years prior to his start. Brian always likes to get his hands dirty and always tends to lend a helping hand if asked. He likes long walks on the beach and has become one of the best siding and exterior experts within the organization. Everyone likes Brian upbeat attitude and "get the job done right, the first time" mentality.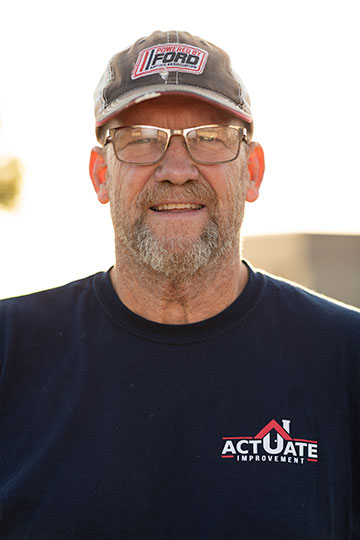 Tim Durrer
STAFF
Tim has been in the Home construction business for over 20 years. Building new homes as well as extensive remodeling. What he likes most about working in this industry is seeing the happy faces of customers when a project comes to an end. We love Tim's attention to detail and his ability to fix what cannot be fixed in difficult installation situations. Tim's favorite things to do are cooking, gardening, fishing and just hanging out with great friends and his Boys.His new year resolutions are using less Cheese and Butter when cooking. But he is not sure just yet on how to do that.
Ryan Luedtke
STAFF
Ryan is the Chief Operating Officer and Draftsmen for Actuate Improvement. He is responsible for the pre production organization of remodeling projects, design and procurement of building plans. Ryan seeks to utilize his knowledge of the remodeling industry, building material products and proficient CAD skills to help customers achieve their needs and wants on every project. Understanding the needs and wants of our customers makes Ryan such a valued asset here at Actuate. Ryan relies on his Bachelor of Arts from Ripon College, his creative mindset and easy going personality to help customers achieve their dreams.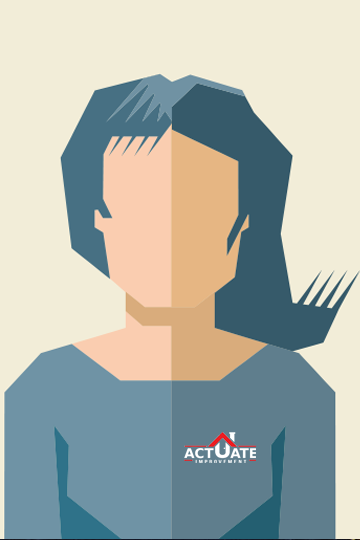 Stephanie Klein
STAFF
Stephanie joined the Actuate Improvement team in November 2019, as the head Interior Designer with 20 years of experience. She graduated with her degree in Interior Design in 2001. She is passionate about design and loves to help her clients achieve their dream home. With attention to detail, Stephanie incorporates the clients ideas and uses her creativity to build a space that is beyond their expectations.Stephanie loves to spend time with her husband, 3 children, friends & family. She is active with camping, swimming and playing sports. She also loves entertaining, cooking, baking and crafting projects with her children. She is involved in her community and volunteers in her children's schools and sport programs. Stephanie is a pleasure to work with and looks forward to working with you on your next project!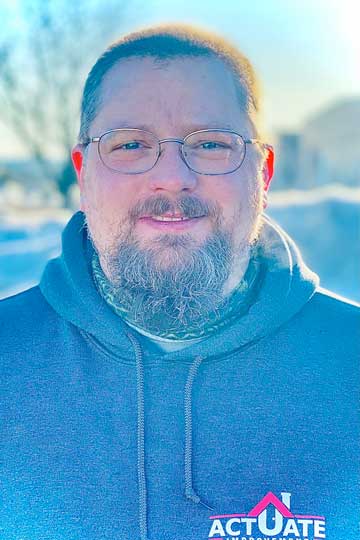 STAFF
Nate has been in several roles in the remodeling industry and will be serving as our Project Manager, until Mark has enough of him. His easy go lucky attitude makes it easy for everyone to get along with him and you will always see a smile on his face. Nate has many outside interests including, furniture building, beer brewing, hoola hoops, instructing a spin class at his local VFW, and snowshoeing.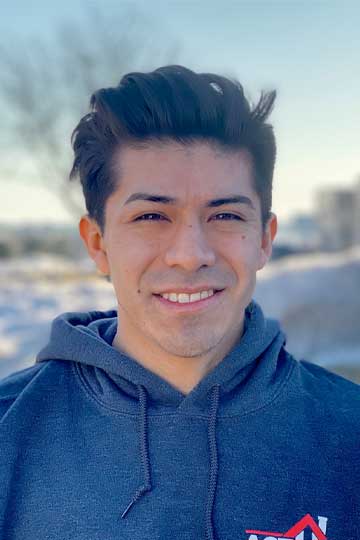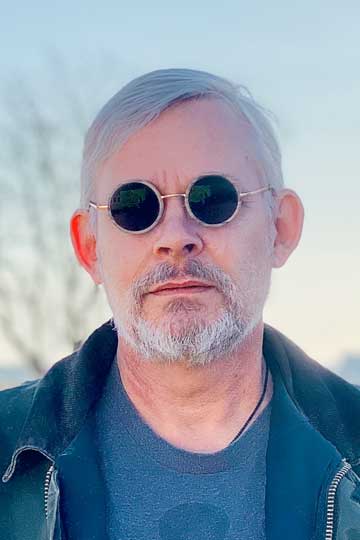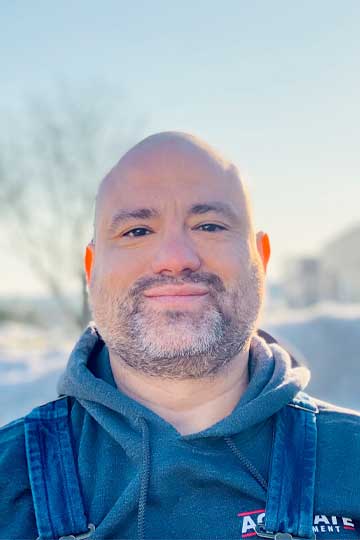 Design + Build
Our way of doing business is unique. We believe communication, accountability, and customer service are must-haves. If you want a home contracting company that cares about your project as much as you do, then give us a call to find out if we're a good fit for your next project.
Ready to plan?
CONTACT US AND LET'S START THE CONVERSATION
Clients
ABOUT US
Working with Mark is refreshing. He is thorough and always ready to take care of us. Every time we had a question, no matter how small or unimportant, he responded quickly. He never left us waiting and was always making sure the project moved along as quickly as possible. When a question required more follow up, Mark let us know when he'd have an answer and he called us back at that time or before.Mark's inspection of the existing structure as he put together his quote was thorough and precise. He explained every detail of the work that would have to happen and taking the time to make sure we understood what he would do and why it had to be done that way. When asked about alternatives, he considered our concerns and adjusted his plan where he could. I've worked with few people as diligent and responsive as Mark.

Due to an extreme life change, I needed to remodel my home quickly. Actuate helped me do this. What made me happiest is that I truly felt like I was working with family….Yes, I would recommend  this company to family and friends, in fact I already have. The entire process was made easier and I felt like they truly cared about me and my unique situation.

I would not hesitate to use your company again… It was a pleasure to work with someone who knows all aspects of the industry…Returning phone calls in a timely manner is one of my pet peeves, but your company did not let me down.

From planning through execution the job was performed without fault and done to a top notch professional degree… [Mark's] attention to detail and ability to tackle any part of the project with professionalism was nothing short of amazing. We are thrilled with the outcome.

You took care of the smallest details and made every adjustment to our liking.

You have been helpful before, during and after the remodeling project.  Thank you for that.  I'm so glad you are putting new life into a house that holds many memories for our family.

You guys did a great job and we love our basement and deck! Thanks and great job!

Enjoyed the men who did the work. Very workman-like, efficient, pleasant, and careful of surrounding areas.

Dear Mark,Thank you so much for taking on my project and spearheading it to completion! I've many complements on it and I especially am so proud of it! 

Thank you so much for doing such a fantastic job on our remodel. You just can't put a price on Marty being able to go on the porch by himself now, and providing safe bathrooms for him. You are all pleasures to work with!